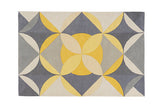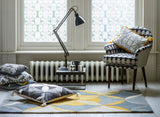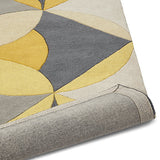 Radiate wool rug
Featuring a signature geometric pattern by Lindsey Lang, this rug will stand the test of time. This stylish design is the perfect balance of bold pattern and clever colour. Brighten up any space with this lovely radiant pattern. Crafted by expert artisans in India through a hand-looming process, this rug features lush pile with different textures underfoot.
All of our rugs are responsibly sourced from suppliers in India and Nepal who are certified by 'GoodWeave'. This ensures that no child labour is used in the production of any of our rugs.
 
Lead time: Our rugs are hand crafted to order with a lead time of 8-10 weeks + shipping time.
 
If you live outside the UK please contact sales@lindseylang.co.uk to place your order.
 
We also have a fantastic bespoke service!
All rugs can be made in custom sizes, shapes, techniques, and colours. If you have bespoke project requirements please contact us to arrange a consultation. The possibilities are endless. For bespoke enquiries please contact studio@lindseylang.co.uk
 
All rugs are non-refundable.